In these days, Google AdSense remains the most popular choice for most content writers — but I believe in that it certainly is not the only one.
Google AdSense is undoubtedly the most popular way to make money from your website by displaying ads on its network. However, it is not the only choice for bloggers out there, and it certainly is not always the best in some cases.
In recent months I have seen more and more problems with young bloggers wanting to see their blogs approved on the company network, only to see a rejection email a few days later. Still, others face even more bizarre problems, such as never receiving the confirmation PIN for their home address by mail, exceeding the four-time limit they can request for a repeat shipment. Other problems also include some bloggers who were on Blogger, Google's platform, who, without completing all the necessary steps on the AdSense network, found themselves unable to change their blog domain name.
Perhaps worst of all is the fact that the company does not provide any solution and no direct means of communication. Whether you search all the help pages it provides, or search the community with its members (forum), you will notice that hundreds of users face the same problems, but without any solution. It all started to drive many bloggers away from Google AdSense, looking for alternative ways in which they could run ads and continue to generate revenue.
The best alternatives to Google AdSense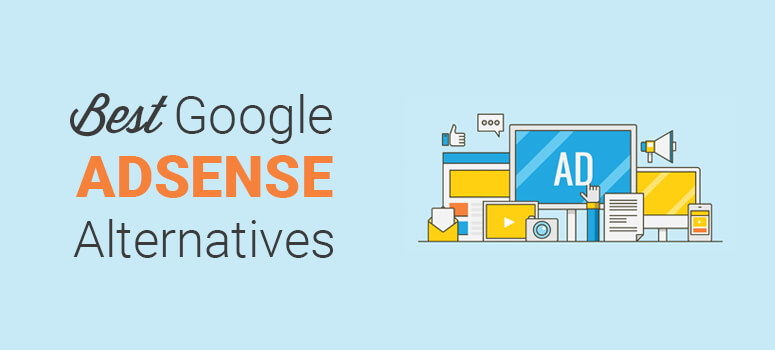 Perhaps what many bloggers do not know, especially in Greece, as abroad the following services are already well known, is that there are some excellent alternatives to Google AdSense, which not only provide everything the company provides but even more.
Each one stands out for its own way of working and the ads it provides to its users, so after reading the article, it is good to look at them one by one and choose the one that meets the needs of your blog.
PropellerAds
— The best affiliate alternative to Adsense
Propeller Ads currently has over 150 thousand publishers on its network and provides the ability to have the classic banner ads, pop-under ads, in-page push ads, smart links, but also known features such as browser alerts for news articles you publish.
The network provides weekly payments, and you can ask to be paid as soon as the minimum amount reaches $ 5 and not 70 euros as is the case with Google AdSense.
For most people, Ezoic is the best alternative to Google AdSense, as it is a certified partner of Google and Cloudflare. The service claims that it can increase the revenue of your blog much more, thanks to the smart system that manages the ads on the websites.
Ezoic allows bloggers to choose the sizes and types of ads they want to try on their websites, and then its "learning machine" will learn (automatically) how advertisers submit bids in different sizes and types of ads for each type of visitor. , thus increasing the chances of someone clicking on them.
In addition, their Ad Tester tool gives you access to Google Ad Exchange, with ads from some of the largest companies in the world. And as if that weren't enough, you also get the opportunity to link your Google AdSense account for more results or more competition between the ads you run.
2. Linkwise
The list could not be completed without Linkwise, the largest affiliate network in Greece. Although the differences between Google AdSense and Linkwise are many, as the second option works exclusively with profit per sale, the network provides excellent banners from different companies that you can add to different parts of your blog, while also providing you with links to your articles.
Since the network includes several large and well-known stores and store chains that many of us trust, it is easier to promote products from already familiar online stores. Linkwise also allows you to add various product feeds, and the add-on they provide to the Chrome Web Store is ideal for always finding the right affiliate link for any product you look at.
Linkwise makes payments to its users once a month (on the 15th of the month, or the next business day), while the minimum amount you must have collected to be paid is 20 euros.
3. Skimlinks
Skimlinks is a very interesting company I would say. Initially, it was known to allow you to convert a bunch of words into affiliate links, completely automatically. The ads it provides to its users are equally very careful and carefully selected, so even banners can be added to the right places, beautifying the blog and not irritating your readers.
With more than 48,000 affiliate programs worldwide and more than 60,000 publishers using Skimlinks to generate a large portion of their revenue, you can easily understand that I am referring to a serious and large network. After all, the case is so automated that all you have to do is add a JavaScript code to your webpage and you're ready to go. It is worth mentioning that the network is fully compatible with AMP pages.
Finally, the service provides detailed guides on how to enable it in WordPress, Blogger, Joomla, Drupal, Squarespace, and Weebly.
If you are registered in the affiliate network of Amazon, then chances are you already knew about the existence of the Native Shopping Ads of the company. More specifically, Amazon gives you access to a range of different "widgets" that you can use to promote products.
This method is well known abroad, with hundreds of thousands of bloggers making money promoting the service's products. From automated widgets featuring featured products to the ability for your readers to search for website products directly through your blog, Amazon Native Shopping Ads is an ideal choice for many bloggers.
As you can understand, you are of course given the opportunity to add specific products to the articles or specific points of your blog, promoting only anything related to the topics you write about. Unfortunately, unlike Linkwise widgets, on Amazon, you will only have their own products and everything written in English.
What do you think are the best Google AdSense alternatives for making money and which ones are you currently using? I will be happy to hear your views and suggestions in the comments at the end of the article.